Categories
View Prices In:
Google+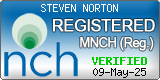 Hypnotherapy with Anxiety Specialist Steve Norton.
Welcome to the home of North East Clinical Hypnotherapist and Anxiety Specialist Steve Norton. I offer personal one to one sessions as well as hypnosis downloads and hypnotherapy services.
There are 3 ways I can help you. All 3 ways work very effectively. Which one will be right for you?
1. Complete Home Study Package including hypnosis downloads
2. Sessions Conducted via Skype Video Call
3. Personal One to One Sessions With Steve
View more testimonials here
Check out the Mind Coach FAQ and Hypnotherapy and Hypnosis FAQ for detailed information about how my Mind Coaching and Hypnotherapy works.
If you'd like to book a One To One consultation with Steve please complete this Personality Test before you call. Please note that spaces are limited so an appointment is not guaranteed. Curious about hypnosis? Check out my new blog for hypnosis related material.
Working together we can conquer your fears, anxieties and phobias.