Categories
View Prices In: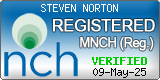 Hypnotherapy downloads.
I offer One to One sessions as well as downloadable hypnotherapy products.
Welcome to the home of Clinical Hypnotherapist and Mind Coach Steve Norton. I offer personal one to one sessions as well as self help home study packages.
There are 3 ways I can help you. All 3 ways work very effectively. Which one will be right for you?
3. Personal One to One Sessions With Steve
News flash!
Steve's book "How To Stop Negative Thinking" recently hit the number #1 spot in Amazons psychology section! It's now available for all devices with Kindle at a silly low price via amazon Kindle!
Hi Steve,
I just wanted to say a massive thank you for your help, I know that some of it is down to my work I've put in, but if it wasn't for you showing me how to think, see, say & do things in a more positive way, I wouldn't be the person I am starting to become & will continue to be now...
View more testimonials here
Check out the Hypnotherapists FAQ for detailed information about how hypnotherapy works.
If you'd like to book a One To One consultation with Steve please complete this Personality Test before you call. Please note that spaces are limited so an appointment is not guaranteed
Together we can conquer your fears, anxieties and phobias.